What You Need To Know About Today's Light Measurement Technology
At Gigahertz-Optik, we have effective solutions for your light measurement requirements. Call us today at 1-978-462-1818 .
High Quality Solutions
For Light Measurement

Precision Engineered For Results You Can Trust
New: Watch our Gigahertz Optik Company Video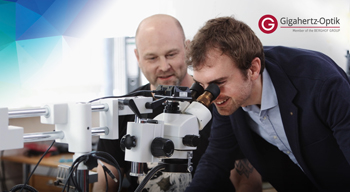 In our new company video you have the opportunity to get an overview of our services, products and the people who are behind all the product developments with "Made in Germany" quality.
Put our expertise to work for you. Call us today at 1-978-462-1818 .
Introducing Jim Litynski, Business Development Manager
We take great pleasure in welcoming Jim Litynski, as Gigahertz-Optik Inc Business Development Manager based in the Amesbury, MA USA subsidiary office.
Jim comes to us with extensive experience in technical sales and management with a background in Physics and Optics. His previous roles included Key Account Manager of Dexter Magnetics, Regional Sales Manager of Celera Motion and President of the US subsidiary of Piezosystem Jena GmbH. Jim has a B.S. in Physics from Rensselaer Polytechnic Institute.