P-9801 8-Channel Radiometer/Photometer
Signals Sampled From All Eight Channels Simultaneously
For Use In Steady-State, Pulsed Light or Color
Measurement Applications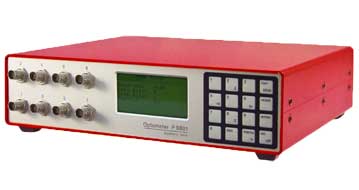 The P-9801 Series Features:
Three models P-9801-V01, P-9801-V02, P-9801-V03
Simultaneous measurement of all eight detector channels
Compatible with all Gigahertz-Optik light detectors
Wide linear detector signal dynamic range
Short rise time with variable sampling rate
Fast multi-channel data-logging
Manual and remote control operation
Powerful 16 bit microprocessor with large memory
External trigger input with pre-trigger function
Pulsed light measurement capability
Compatible with all Gigahertz-Optik light & color detectors
A True Eight-Channel Radiometer/Photometer
The P-9801 is a true eight-channel radiometer/photometer designed with eight photocurrent-to-voltage amplifiers (no multiplexing) and eight 12 bit highly linear analogue-to-digital converters (ADC) enabling signal sampling of all channels simultaneously. Each channel's wide 0.1 pA to 2 mA signal range covers the dynamic range of most current semiconductor photodiodes for nearly unrestricted use in any light measurement application.
Three Versions - Different Analogue Amplifiers
The difference between the three P-9801 versions is their analogue amplifier.
P-9801-V01 is set-up with a gain dependent slew rate of 2 to 10 ms for universal light measurement purposes.


P-9801-V02 amplifier offers a gain range independent rise time for the pulse energy measurement of short light flashes using a pulse stretching method.


P-9801-V03 offers a fast rise time of 1ms (range 6 and 7 10 ms) for high speed data logger applications with external trigger and pre-trigger function.


Adjustable Integration Times
The fast sampling rate of the P-9801 ADC enables an adjustable integration time of 1ms up to 999 seconds formed by the average of multiple measurements with 100us integration time. This averaging feature support fast data logger measurements used in peak-to-peak, short pulse energy measurements and other modes. The maximum error within this wide dynamic range is 0.2 % through traceable calibrations of each range.
Pulsed Light & Color Measurement
Due to its ability to simultaneously measure of all signal channels the P-9801 is ideal for the measurement of short duration events such as light flashes. Combined with the CT-4501-1 detector the P-9801 becomes an illuminance and luminous color meter for light sources operated in steady-state or flash mode. The P-9801 with CT-4501-1 is recommended for:
Universal laboratory light measurement instrument for illuminance and luminous color
Effective luminous intensity measurement of anti-collision lighting, mobile phone flashing light, warning signals and beacons
Luminous intensity distribution measurement of anti-collision lighting, mobile phone flashing light, warning signals when mated with a goniometer bench
The P-9801 offers two different measurement modes for light flashes
Pulse energy measurement mode where the energy of the light flash is integrated. Measurement values are displayed in (lxs) lux-seconds, xy chromaticity values and color temperature. Integration is done by a pulse stretching method enabling the measurement of light flashes with pulse lengths shorter than the meter rise time.


Pulse shape is measured with high speed data logger. Pulse length, peak intensity, integral of the pulse energy and color values are calculated using the logged data. The P-9801 offers unique features for short event measurement like an internal trigger selectable for the measurement signal of channels 1 to 8 or external trigger. The pre-trigger function enables the measurement of the signal before the triggered event. Here the sampling rate of the data logger measurement is limited by the rise time of the optometer.
Allows External Remote Control
A bi-directional RS232 serial and IEEE488 interface allows external remote control.
For Ambient Electromagnetic Environments
For integration of the P-9801 in applications in strong ambient electromagnetic environments, e.g. high power arc lamp measurement, the P-9801s offer a high quality metal housing for best EMV shielding and rack mount option.
Download the P-9801 Channel Radiometer/Photometer Technical Data Sheet pdf file.
To Order The P-9801 8-Channel Radiometer/Photometer,
Call Us Today At 1-978-462-1818.
Interested in discussing your light measurement application? Give us a call!