MSC15 Low Cost Spectral Light Meter
For photopic and scotopic illuminance, S/P Ratio, EVE factor, luminous color, color rendering index and light spectrum and flicker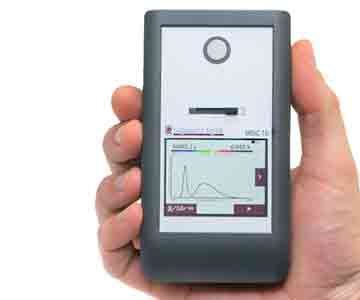 Measures illuminance, color & spectrum

Twenty different measurement quantities available with software included

Handy low cost tool in the field or lab
Cost Effective Spectral Meter
The MSC15 is a handy and cost effective spectral light and color meter. It measures twenty different light and color quantities as well as PAR plant growth and Bilirubin phototherapy functions with intuitive simple color touch-screen operation and S-MSC15 software supplied. A built-in diffuser window provides cosine correction with an f2≤3%. User software, USB interface and traceable calibration certification to international standards are supplied with the meter.
Must Have Tool For Lighting Professionals
The MSC15 is a must have tool for lighting professionals including: engineers, designers, manufacturers/distributors, architects, interior designers and facility managers tasked with qualifying conventional and solid-state (LED & OLED) light sources.
Bilirubin Measurands:
E_B_IEC bilirubin IEC 60601-2-50 (mW/cm²)
E_B_AAP bilirubin AAP (μW/(cm²nm))
PAR Measurands:
Human Centric (α-optic) Measurands:
Ez melanopic illuminance
Ee,z melanopic irradiance
Ev,mel melanopic daylight equivalent illuminance
Esc cyanopic illuminance
Ee,sc cyanopic irradiance
Emc chloropic illuminance
Ee,mc chloropic irradiance
Elc erythropic illuminance
Ee,lc erythropic irradiance
Radiometric, Photometric, Colorimetric Measurands:
Ee (λ) spectral irradiance
Ev illuminance (fc & lux)
Es scotopic illuminance (lux)
Ee irradiance
Es/Ev scotopic / photopic ratio
x; y CIE 1931 color coordiantes
u'; v' CIE 1976 color coordiantes
CCT correlated color temperature
Δuv deviation from the blackbody locus
X; Y; Z CIE color
Ra; R1..15 CRI - color rendering index
λdom dominant wavelength
pe Purity
CIE 1931 color graphic with S-BTS256 software
CIE 1976 color graphic with S-BTS256 software
CRI Bar Plot with S-BTS256 software
λp peak wavelength
λc center wavelength
λs centroid wavelength
λ0,5 spectral half-width (FWHM)
TM-30-15 Rf fidelity index
TM-30-15 Rg gamut index
Product Specifications
For product specifications and configurable options for the MSC15 Spectral Light & Color Meter, please visit the Gigahertz-Optik main website here.
To Order The MSC15 Spectral Light & Color Meter, Call Us Today At 1-978-462-1818.