UPB-150-ART Barium Sulfate Coating
Universal R/T/ULS Integrating Sphere for: Reflectance, Transmittance Measurement, and Uniform Light Source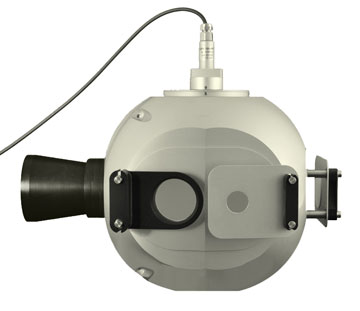 Integrating spheres are commonly used as the base unit in the determination of optical properties of material, specifically reflection, transmission and absorption measurements. The sphere's unique ability is to integrate incoming optical radiation regardless of whether it is directional or scattered. Integrating spheres can also be outfitted with light sources and monitor detectors for use as uniform light sources in UV-Visible-NIR-IR optical radiation calibration applications.
Optimum Six Inch Diameter Integrating Sphere for Flexible Reflection & Transmission Measurements
The UPB-150-ART are 150mm (6") diameter integrating spheres are commonly used in these applications since this size offers the best com­promise between light throughput and sphere functionality. Its five port layout is designed for multi-purpose single or double beam reflectance, transmittance measurement applications in both +/- 8-degree and 0 degree geometries.
Flexible Five Port Design for Universal Use
Typical measurement set-ups supported by the UPB-150-ART five-port design include:
0°/d Reflection
8°/d Reflection with or without gloss
0°/d Transmission
Measurement with test sample self-absorption correction
Double-beam measurement setups
The UPB-150-ART integrating sphere is barium sulfate coated (Gigahertz-Optik's ODP97) covering the 300 to 2400nm spectral range.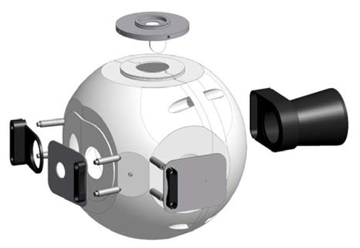 UPB-150-ART multiport integrating sphere
with optional accessories.
30mm Diameter Port Size with Knife-Edge
Each of the five 30mm diameter ports includes a real symmetrical knife-edge design to produce the maximum size acceptance angle to allow the most light into the sphere without contacting the sphere port. The UPB-150-ART port wall thickness is only 0.5mm. The +/-8° measurement ports are not aligned in the center of the sphere and have a circumferential knife edge of only 0.5mm as well.
Universal 'Slide & Fix' Port Mounts for Port Accessory Components
Gigahertz-Optik's unique two-post Slide & Fix mount system offers tool less mounting of supplied accessory components to the ports including:
Port Plugs that fit into the port to form a uniform sphere surface when port is covered
Port Re­ducers to reduce the 30mm diameter port aperture
Sample Holders to mount different size and thickness test samples and calibration standards
Light Traps to absorb light exiting the sphere
Universal Detector Port with Adjustable Integrated Baffle
Different types of detector holders are available for the detector port which is located at the top of the integrating sphere. The integrated detector holder baffle can be orientated to the different application ports by rotating the detector holder. The sphere is barium sulfate coated covering the spectral range from 300 to 2400nm. Optional Gigahertz-Optik light detectors, light meters, light analyzers and calibration standards are available.
Integrating Sphere Light Source Adaptability
The UPB-150-ART are modularly configurable for use as uniform light sources. Traditional tungsten and LED type light source assemblies, UV-Vis-NIR-IR detectors and different types of attenuation devices can be mounted onto the integrating spheres to form a lab standard calibration source useful for:
Pixel uniformity and pixel linearity calibration of imaging systems and cameras with a wide dynamic luminance range
MTF calibration of imaging sensor resolution where a slit target at a specified distance is uniformly illuminated by the integrating sphere source
Luminance or spectral radiance sensitivity calibration of imaging devices or luminance meters
Product Specifications
For product specifications and configurable options for the UPB-150-ART Universal Integrating Sphere, please visit the Gigahertz-Optik main website here.