P-9710-1 Radiometer/Photometer
High Level Laboratory-Grade Features
In A Compact Portable Light Meter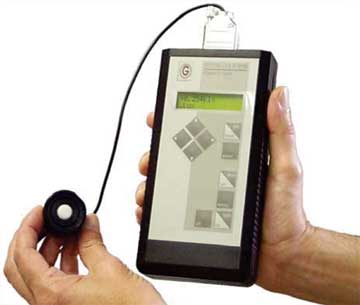 Universal Use In
Light Measurement
Applications
A Wide Light Measurement Range
Gigahertz-Optik's P-9710-1 Radiometer/Photometer for universal use in any UV - Visible - Near Infrared radiometric and photometric application provides a wide light measurement range, fifteen menu selectable modes of operation, full RS232 remote control (optional Windows based software) plus internal datalogging.
Measures To One Microsecond
The P-9710-2 model light meter features a fast response pulse energy mode enabling on-site measurement of single and multiple pulsed light events down to one microsecond in length.
Measure On Site Or In The Lab
Steady-state light levels or the average energy of flashing light sources, strobe lamps, LEDs, beacons/ warning signals, pulsed Xenon sources can be accurately measured with data storage on site or in the lab.
Error Free System Set-Up And Operation
All essential detector data is stored in the detector's connector so that any number of light detectors and associated components like optical filters, integrating spheres, for example, can be interchanged on the one P-9710 Radiometer/Photometer for error free system set-up and operation. This makes adding additional light detectors for future light measurement projects quick and easy.
A Versatile Read-Out Device
The chief feature of the P-9710 is its versatility. It serves as the read-out device for a full program of UV-Vis-NIR radiometric, photometric light detectors and accessory components. Photodetector, filter and any necessary input component or accessory can be specifically configured for light and LED measurements in any light measurement unit.
Download Our Catalog Of Light Measurement Detectors.
To Order The P-9710-1 Hand-Held Radiometer/Photometer,
Call Us Today At 1-978-462-1818