Luminous Color & Illuminance Detectors
The CT-4501 luminous color detector is designed with a precise x,y,z tristimulus spectral match to the CIE color function enabling accurate illuminance, x,y chromaticity values and color temperature measurement of broad band emitting light sources. The CT-4501 is compatible with the HCT-99D color meter and also the P-9801 8-channel radiometer/photometer/colorimeter.
The detector is supplied with a 2m long coaxial cable with selectable -1 or -4 type connector for use with Gigahertz-Optik's range of optometers. Internationally traceable calibration & certification of illuminance in lux and color within the specified spectral sensitivity range is provided.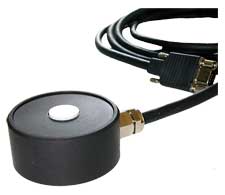 CT-4501 Illuminance
and Luminous Color Detector

Model

Spectral Function

Wavelength Range

Input Optic Ø

F.O.V. or Active Area

Units of
Measurement

Housing
Dimensions

Typical Sensitivity

nm

mm

Diameter or
W x H

Length
mm

Luminous Color & Illuminance Detectors

CT-3701

x,y,z 2 Degrees

380-780

10

Cosine

x,y; u,v; K, lx

37/58

90

0.03nA/lx

CT-4501

x,y,z 2 Degrees

380-780

10

Cosine

x,y; u,v; K, lx

45

20

0.03nA/lx
Calibrated & Certified To International Standards
All optical radiation detectors are calibrated and certified by Gigahertz-Optik's calibration laboratory with both absolute sensitivity data and spectral responsivity plot provided.