HCT-99D Light & Color Meter
A High Accuracy Light Measurement Tool
Compact, Portable & Easy To Use
Luminous Color & Illuminance (Lux) Light
Gigahertz-Optik's compact hand-held HCT-99D light and color meter provides fast, accurate incident color and illuminance (lux) light measurements of light sources in field service, production or research applications at an affordable price. Even though the HCT-99D was designed to measure traditional lamp sources it could be useful for some LED measurement work depending on the application. For best results when measuring lux and color quantities the BTS256-E Bi-Tec Sensor lightmeter is highly recommended. Please consult with the factory for further assistance.
Easy To Use, Ergonomically Designed
The ergonomically designed HCT-99D meter is simple to use.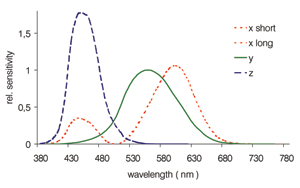 To measure, just connect the detector and switch on the meter. The HCT-99D's high contrast 4-line backlit LCD conveniently provides a simultaneous read-out of:
Color chromaticity coordinates x,y and u',v'


Illuminance in lux


Correlated color temperature (CCT)


Color Difference Function
In the HCT-99D, a color difference function based on the calculation of delta uv is a standard feature. This is a color difference of the deviation of the measured x, y color coordinates from the black body radiator locus.
Precisely Adapted To CIE Functions
The HCT-99D includes the CT-4501-4 light and color detector head that houses four filter corrected detectors response precisely adapted to the CIE spectral tristimulus functions.
Silicon photodiode based detection ensures a stable, linear and wide dynamic light and color measurement range with long lifetime.
An extra Xshort blue spectral response detector improves accuracy when measuring high color temperature sources.
Calibrated & Certified To International Standards
The HCT-99D light and color meter is calibrated and certified to international standards backed by Gigahertz-Optik's EN/IEC/ISO 17025 accredited optical radiation calibration laboratory (Registration No. DKD-K-10601 - pdf download).
About The HCT-99D Color Meter System
The HCT-99D colorimeter system includes the compact, hand-held meter, CT-4501-4 light and color detector, hard-shell carry case, USB interface cable, DLL and manual. Free Excel VBA program available on request.
Technical & Accessory Information
Technical, software and light measurement accessory components information for the HCT-99D Color Meter.
To Order The HCT-99D Compact, Hand-Held Color Meter, Call Us Today At 1-978-462-1818