X1-1 Radiometer/Photometer
A Lab Quality Fully Portable Light Meter
With 4-Channel Detection Capability
Universal Use
In Any Light,
Light Color & Radiation Measurement Application
A Versatile Radiometer/Photometer
Gigahertz-Optik's X1-1 Radiometer/Photometer is suitable for universal use in any UV - Visible - Near Infrared radiometric and photometric application with appropriate light detector.
X1-1 Features:
Wide light measurement range
Menu selectable modes of operation
Full RS232 or USB remote control (optional Windows based software)
Four-line backlit display
Ergonomically designed hand-held unit
One to Four Detection Capabilities
Four-channel multiplexed technology allows this X1-1 radiometer/photometer to operate and display up to four detector measurements at the same time.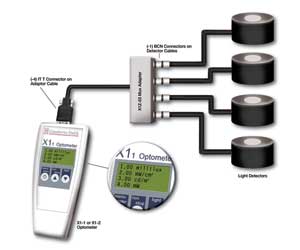 Click on the image to see a larger version.
A Cost Effective Multi-Channel Solution
A cost effective multi-spectral band filter radiometer can be assembled using four single sensor detector heads with the X1Z-03 detector adapter.
Technical & Accessory Information
Technical, software and light measurement accessory components information for the X1-1 Radiometer/Photometer.
To Order The X1-1 Radiometer/Photometer, Call Us Today At 1-978-462-1818