ODM98 Diffuse Reflectance Material & Coating
Works As A Translucent Reflector & Optical Diffuser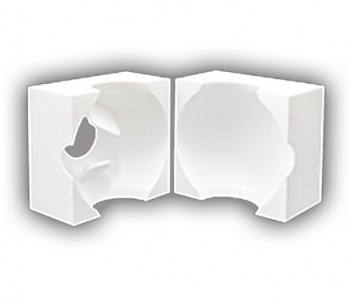 High Resistance To High Intensity Irradiance, UV And Thermal Radiation
A High Resistance Diffuse Reflective Material
ODM98 is a diffuse reflecting synthetic material with high resistance to high intensity irradiance, UV and thermal radiation. It is supplied in raw block, plate, film form and as machined parts in optical finish. Custom ODM 98 design and machining services of both 2D and 3D formed shapes is also available.
Reflectance Standards
ODM98 is commonly used as reflectance standards (flat surface) for the calibration of:
Spectrophotometers
Imaging System Pixel Uniformity
Reflectance Meters
Surface Color Meters
A Nearly Perfect Diffuse Reflection
OP.DI.MA. is a special processed synthetic material which works as a translucent reflector & optical diffuser. This means that radiation will enter into the material and reflect from many interfaces within the material itself. This results in a nearly perfect diffuse reflection. A side effect of volume reflection is a variation in transit times of the reflected radiation within the material. This variation in transit eliminates speckling effects associated with coherent radiation.
Outstanding Properties
10 mm thick ODM98 optically diffuse material provides a reflectance of up to 98.5% in the visible spectrum and a minimum reflectance of 93% within the wavelength range from 250 nm to 2.5 um. Other properties of OP.DI.MA. include temperature stability up to 280* C, insolubility in water and resistance to UV degradation.
Can Be Machined, Re-Machined & Cleaned
The surface of the material must be machined to obtain an optical finish without gloss effects. It can be re-machined and cleaned prolonging its operational life.
Use Considerations
Of course, these outstanding properties are accompanied by some limitations: the material can only be manufactured in block or plate form. This generally necessitates performing cutting operations to shape the material to the desired form. As a translucent reflector, the level of reflection depends on the material thickness. The material can not be applied as a coating.
To Order ODM98 Diffuse Reflecting Material,
Call Us Today At 1-978-462-1818